Peeling body sponge oval terry 75%linen 14x20cm
5.90 €
Oval peeling body sponge made of high-quality linen terry fabric. A sponge strip about 1 cm thick is sewn between the two sides to keep the mold and use it comfortably. Linen body sponges are rougher and act as a body scrub.
linen 75%, cotton 25%
14 × 20 cm
Only 24 left in stock
---
| | |
| --- | --- |
| Weight | 0.040 kg |
| Dimensions | 20 × 14 × 1 cm |
You may also like…
Read more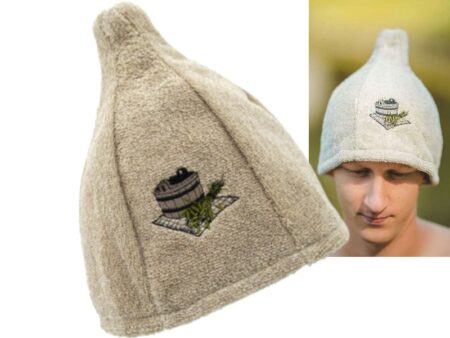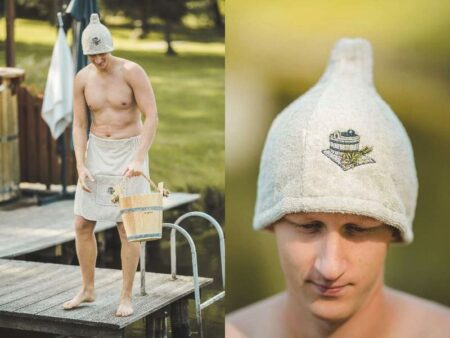 Men's linen terry sauna hat, 40% linen
12.50

€
Linen terry cloth sauna hat with embroidered picture.
Half-linen hats are very comfortable and light. The linen sauna hat is durable, hygienic and easy to maintain.
Composition: 40% linen, 60% cotton
Color: natural linen
Size: universal
Maintenance: machine wash max 40 ° degrees.
You can buy a sauna skirt in the same color for this sauna hat.
Sauna skirt for women linen terry 40%linen 75x140cm
38.50

€
Sauna skirt for women from high-quality and linen terry fabric. Fastening with a long and strong velcro fastening, a wide and durable rubber band folded at the top. Safe and suitable for women of all sizes! For extra convenience, a pocket with an embroidered picture is sewn on.
Fabric: 40% linen, 60% cotton
Size: 75 x 140 cm
Maintenance: machine wash max 40 °
Sauna skirt for men linen terry 40%linen 55x140cm
33.50

€
Sauna skirt for men from high-quality and linen terry fabric. Fastening with a long and strong velcro fastening, a wide and durable rubber band folded at the top. Suitable for men of all sizes! For extra convenience, a pocket with an embroidered picture is sewn on.
Fabric: 40% linen, 60% cotton
Size: 55 x 140 cm
You can buy a set for this sauna skirt in the same color as a sauna hat.
Maintenance: machine wash max 40 °
Related Products
Sauna steam dispenser Owl made of ceramic 14x13x14cm
21.90

€
High quality and beautiful Owl for sauna, made of ceramics. The owl is intended to be hung from its chain over the sauna stove. Some water and sauna scent are put into the product and this solution then gradually drips onto the sauna stove stones through the small hole in the bottom of the owl.
Dimensions (without chain): ca 14 x 13 x 14 cm
Package dimensions: 15,3 x 14,5 x 14,5 cm
TO ADD THE PRODUCT TO THE BASKET CLICK ON THE DESIGN OPTIONS PICTURE