Peeling body sponge oval terry 40%linen 14x20cm
5.50 €
Oval peeling body sponge made of high-quality linen terry fabric. A sponge strip about 1 cm thick is sewn between the two sides to keep the mold and use it comfortably. Linen body sponges are rougher and act as a body scrub.
linen 40%, cotton 60%
14 × 20 cm
Only 4 left in stock
---
| | |
| --- | --- |
| Weight | 0.040 kg |
| Dimensions | 20 × 14 × 1 cm |
You may also like…
Sauna skirt for men linen terry 40%linen 55x140cm
33.50

€
Sauna skirt for men from high-quality and linen terry fabric. Fastening with a long and strong velcro fastening, a wide and durable rubber band folded at the top. Suitable for men of all sizes! For extra convenience, a pocket with an embroidered picture is sewn on.
Fabric: 40% linen, 60% cotton
Size: 55 x 140 cm
You can buy a set for this sauna skirt in the same color as a sauna hat.
Maintenance: machine wash max 40 °
Sauna skirt for women linen terry 40%linen 75x140cm
38.50

€
Sauna skirt for women from high-quality and linen terry fabric. Fastening with a long and strong velcro fastening, a wide and durable rubber band folded at the top. Safe and suitable for women of all sizes! For extra convenience, a pocket with an embroidered picture is sewn on.
Fabric: 40% linen, 60% cotton
Size: 75 x 140 cm
Maintenance: machine wash max 40 °
Read more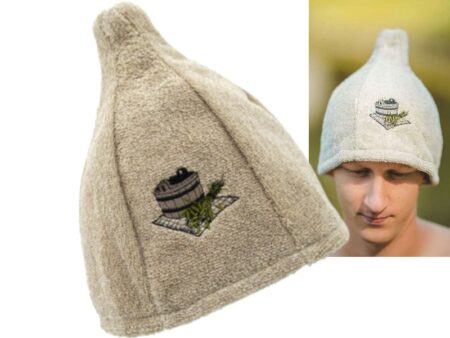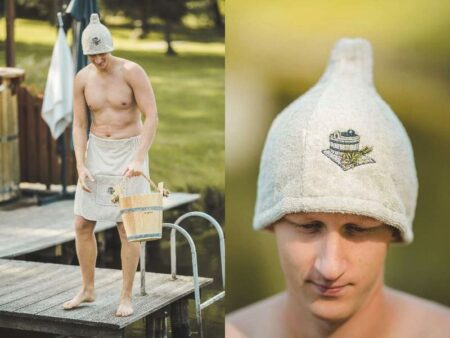 Men's linen terry sauna hat, 40% linen
12.50

€
Linen terry cloth sauna hat with embroidered picture.
Half-linen hats are very comfortable and light. The linen sauna hat is durable, hygienic and easy to maintain.
Composition: 40% linen, 60% cotton
Color: natural linen
Size: universal
Maintenance: machine wash max 40 ° degrees.
You can buy a sauna skirt in the same color for this sauna hat.
Related Products
Girl with salt for sauna made of ceramic 14x12x12cm
14.75

€
The product can be clamp on the wall or placed on a shelf in the sauna room. Make sure that no water gets on the salt. The beneficial substances released from the salt spread throughout the steam room. The product comes with a piece of Himalayan salt. !!! Made by hand and the color and shape of the product may differ slightly from the picture.
Dimensions: ca 14 x 12 x 12,5 cm
Package dimensions: 16 x 13 x 13 cm